Support Service for Creation and Improvement of Upstream Documents
Do you define requirements properly?
As division of labor and globalization of development proceed, documents needs are growing. However, we hear a lot of problems are due to documents.Also, development documents complying with international standards per industrial area are demanded to export products.This service improves the requirement definition process required for these standards and supports problem solving related to documents.
Do you have these situations?
So far, when supporting customers' development, we have heard from them as below.
I don't know to what extent I should write on the document.
There are some misunderstandings with the suppliers and the contractors.
There are many omissions of specifications
The documents are understandable by the creators only.
How about in your working place?In Japan, there are only a few opportunities to be educated in not only software development but also document creation for business. Therefore, documentation has a lower priority.
Effects expected through this service
This service aims to improve development efficiency by creating proper documents without hesitation and eliminating communication errors through documents and reworking.Also, restoring "requirement" and "reason" unlikely to be communicated clearly in the high-context Japanese culture has the effect to clarify the judging criteria of validity of designs and tests.
You can immediately identify the readers to create documents.
Communication errors are reduced because validity of the specification can be judged by definition of requirements.
Reworking is minimized by defining specifications without omissions.
As a secondary effect, you can realize traceability required these days only when you define the requirements property.Because you can prove that design (architecture), implementation and tests are completed based on the requirements, you can explain them with confidence to a third party.
Service Content
This service consists of 3 improvement activities.
Firstly, we check the current development documents with you to clarify what has been done and what has not been done or needs improvement.At the time, we let you understand "mechanism of software development" and therefore we have acquired a favorable reputation especially from companies outsourcing software.Then, we define the required document referencing applicable standards depending on the industry of the product you are developing.If there is no reference standard, we use IEC29148 , which is an international standard for requirement engineering.
1. Assessment
We analyze current documents, see if there is information required for the design and see your way of writing may be vulnerable to errors.
2. Establishment of Document System
Referencing international standards as necessary, we define design methods and documents required for each process of software developmentAlso, we understand the mechanism of how communication errors occur outside of the process, and learn how to write required specifications preventing it.
3. Creation of required specifications without Omissions
This service features 3 tables: "USDM", "Organization Table for required specifications" and "State Transition Table" to be used depending on situations to prevent omissions in specifications. USDM focusing on "logical configuration", "Organization Table for required specifications" focusing on "sentence configuration" expressing structures, behaviors and performance requirements, and "State Transition Table" focusing on "states" of behavior complementing each other to help you find omissions.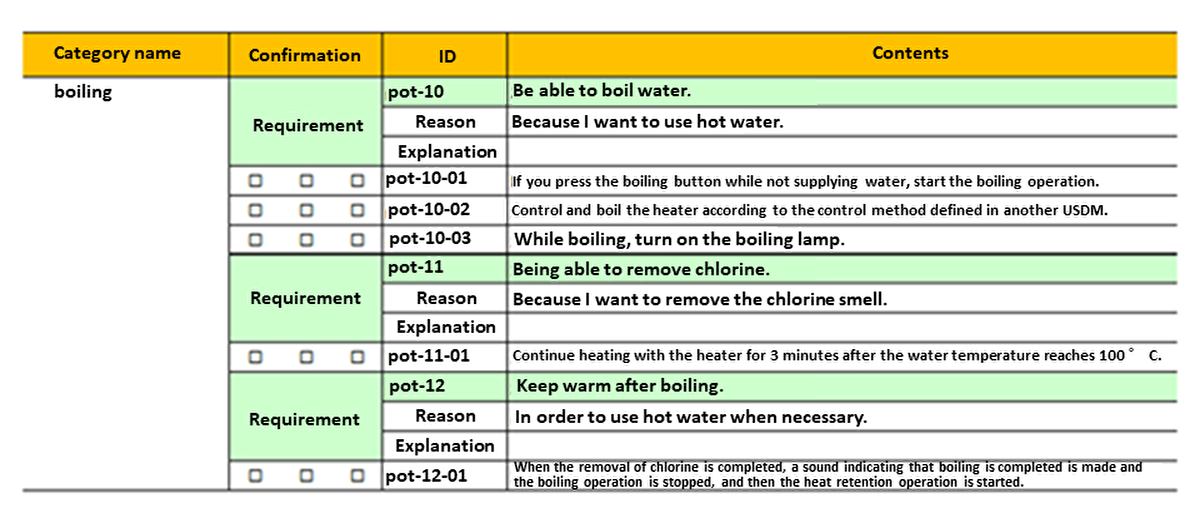 Required specifications with USDM (Image)
Improved Comprehensiveness with Organization Table for Required Specifications
Flow of Service to Improve Upstream Documents
Service to Improve Upstream Documents plans depending on customers' situations and the representative flow is described as below.Firstly, we understand your current status and hold seminars and training for you.Then, after understanding the basics, we practice with an actual business theme accordingly and help you establish the skills.Anyway, do not hesitate to consult us about challenge you are facing.